Epicinium (Beta)
From Open Beta to Closed Beta + v0.29.0 released
---
Closed Beta
Ever since Epicinium was ready for public playing, we made it available as a free download and kept updating it publicly. This was a great way to iron out bugs and collect your early opinion on where the game was going. Input from our beta testers during this period has been invaluable and we would like to thank all participants very much.
As we are getting closer towards our crowdfunding campaign, we have opted to end the Open Beta. Instead, we will hold a Closed Beta via Discord. Active members of our Discord server will be invited to join the Closed Beta. This makes sure that people can play the game with other community members, as is the intended experience. We've built features into our Discord server that can help players find opponents, such as tournaments and a matchmaking bot. It also means that players can immediately find us when they have questions or need other assistance.
Join our community
What does this mean for you? If you already registered for an Epicinium account, you automatically qualify for access as a thank you for participating in the Open Beta. Join the Discord community and send us (SLiV or UnarmedLad) a Direct Message with your in-game username or the email address you used for your Epicinium account and you will be given access to the Closed Beta.
If you didn't have an account yet and want to play the beta, join our community and show your face in the chat! You don't have to do anything special, just show that you're committed to the game's development and being in the community.
This change is part of our road towards the crowdfunding and release. Stay posted for more news on this in the coming weeks!
Beta version 0.29.0
After you've received your shiny new key, you're gonna want to have a shiny new Beta version to put it in. That's why we made beta version 0.29.0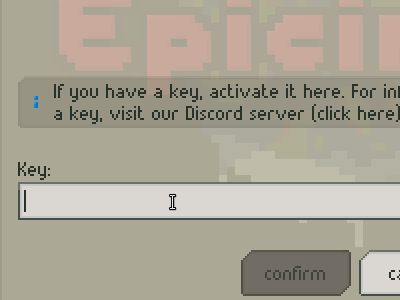 You can activate your key in the main menu. We've even improved the text input to allow you to copy and paste the key, instead of typing it in by hand like a fool!
Unit movement
This new version also has improved figure pathing, which means riflemen will now walk around other soldiers and buildings instead of through them.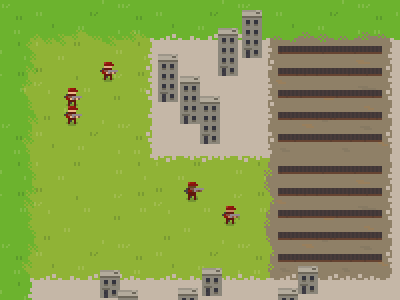 To make sure you get a lot of mileage out of this change, the new High Speed Challenge increases the movement speed of all units by 2. The vision radius of units has not changed, so be wary of attacks of opportunity!
Don't forget, to get access to the new Beta, join our community on Discord. We hope to greet you there soon!
Have a good weekend.