Epicinium (Beta)
Balance changes in version 0.24.0
---
We released beta version 0.24.0 today to bring some balance changes that we felt were needed after the gameplay changes in version 0.23.0.
When we replaced the Rifleman unit with the Militia as the standard infantry that could be made at City tiles, we had hoped this would make infantry rushes a bit weaker. By also making Militia cheaper and having their maximum size be 5, we instead made these rushes more oppressive, as very large Militia units are cheap, fast and deadly. Even worse, defending your City tiles also become more difficult because the lower hitpoints of the Militia meant that they profited less from the City's defense bonus.
Therefore, City tiles now produce Rifleman units once again. They cost 10, which is a bit more expensive than when produced at the Barracks. You still start the game with some Militia units and further Militia units can be produced at the Farm. This allows you to build a Rifleman unit at your City to defend against the starting Militia of your opponent.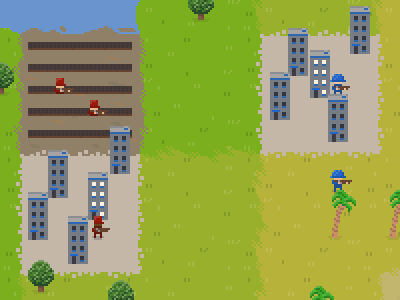 Rifleman units are now intended as a defensive unit in the early game, but their Capture ability still makes them very powerful in the mid and late game. To prevent them from being too oppressive too soon, we reduced the movement speed of Rifleman units to 2, down from 3. Hopefully this will allow players to better defend against early Militia rushes, without enabling Rifleman rushes. Of course, we'll keep an eye on how this plays out.
To summarize:
The City tile can now produce the Rifleman unit for a cost of 10.
Lowered the movement speed of the Rifleman unit to 2, down from 3.
The City tile can no longer produce Militia units.
We also fixed some bugs and made some other changes; the full release notes can be found here.
Files
Epicinium Beta (Windows 64-bit)
23 MB
Version 0.24.0
Jun 01, 2018
Epicinium Beta (Windows 32-bit)
23 MB
Version 0.24.0
Jun 01, 2018
Epicinium Beta (Mac OS X)
21 MB
Version 0.24.0
Jun 01, 2018
Epicinium Beta (Linux 64-bit)
23 MB
Version 0.24.0
Jun 01, 2018
Epicinium Beta (Linux 32-bit)
23 MB
Version 0.24.0
Jun 01, 2018